| | |
| --- | --- |
| Digital Preservation – The Planets Way | |
Return to the main page for this event
About Sofia
Sofia is the administrative, economic, cultural and educational ancient capital of Bulgaria and dates back 7000 years to prehistoric times. The city is situated in the Sofia Valley between the Vladaiska and Perlaska Rivers and at the foot of Mount Vitosha and surrounded by hills and grew as a crossroads between the Adriatic, Aegian and Black Seas and Central Europe.
Archaeological remains attest to a vibrant, colourful and sometimes bloody history influenced by the Romans, the Huns, Ottaman Empire and Communist rule. The castle gates and towers of Serdica, the city walls, public buildings and streets, and streets paved with yellow Viennese cobblestones lie above the ground whilst ancient sites such as the city council (bulefterus) and the Roman thermal baths lie underground beneath modern landmarks.
Sofia houses numerous museums including the Bulgarian Natural Museum, the Museum of Earth and Men, the Ethnographic Museum, the National Museum of Military History and National Archaeological Museum. In addition, there are a number of art galleries including the Sofia Art Gallery, the Bulgarian National Gallery of Arts and Bulgarian National Gallery for Foreign Art and places of interest such as the St Cyril and Methodius National Library which houses the largest national book collections, The Largo administrative district and the Sofia Zoological Gardens.
Many architectural monuments have been preserved including the Royal Palace, Boyana Church, Public Theatre of Ivan Vazov, the Alexander Nevsky cathedral, the Palace of Justice, the Churches of St George and St Sofia. Sofia is home to the Bulgarian Academy of Sciences and 16 universities.

Alexander Nevski Cathedral, Sofia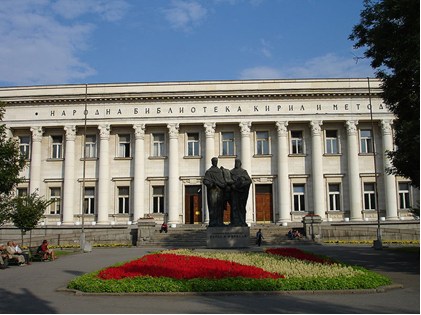 Cyril and Methodius National Library, Sofia

St George Rotunda, Sofia